Curso in
Estudios de moda
Franklin University Switzerland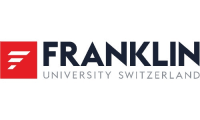 Introducción
En la especialidad de Estudios de Moda, los cursos estudian la historia del diseño y la creación de imágenes, los procesos sociológicos y comunicativos de la creación de la moda, el papel de la innovación tecnológica, así como las teorías de la gestión de productos, la marca y el marketing. En el contexto de la licenciatura en artes liberales en Franklin University Switzerland , la especialización interdisciplinaria de Estudios de la Moda ofrece la posibilidad a los estudiantes de construir énfasis particulares de acuerdo con su interés en el campo. El programa prepara a los estudiantes para puestos de nivel de entrada en carreras de moda, así como para la investigación de tendencias en una variedad de campos, incluidos archivos, museos, galerías, medios, consultoría, sector editorial, venta minorista, distribución, diseño y el negocio de la moda. Los estudiantes también pueden optar por seguir carreras de diseño o investigación avanzada de moda para obtener una maestría o un doctorado. la licenciatura.
Plan de estudios
The Fashion Studies Major offers an interdisciplinary course of study composed of courses from the disciplines of Art History and Visual Culture, Communication and Media Studies, International Management, with further options in Comparative Literary and Cultural Studies, and Visual Communication Arts and Studio Art courses.
Foundation Courses (12 Credits)
AHT 103 - Introduction to Art History and Visual Culture II: High Renaissance to Contemporary Art
BUS 135 - Introduction to Business Systems
COM 105 - Introduction to Communication and Media Studies
FAS 100 - Introduction to Fashion Studies
Required Courses (6 Credits)
Two of the following:
AHT 270 - Theories and Methods in Art History and Visual Culture
BUS 256 - Marketing Research Methods
COM 203 - Communication Research Methods
Major Electives (21 Credits)
Seven of the following (at least three courses must be at 300-level or above)
(Elective courses must come from at least three different disciplines)
AHT 216 - Introduction to the History of Photography
AHT 285T - Technology in Art, Visual Communication, and Fashion
AHT 320 - Anthropologies of Art
AHT 362 - Visual Semiotics: Signs and Symbols in Art, Architecture, Film, and Fashion
BUS 136 - Marketing in a Global Context
BUS 285 - Integrated Marketing Communications
BUS 274 - Brand Management
BUS 385 - Consumer Behavior in International Marketing
CLCS 340 - Fashion and Visual Culture
COM 201 - Fundamentals of Media Studies and Criticism
COM 230T - Communication, Fashion, and the Formation of Taste (Italy)
COM 295 - Media Consumption, Fashion, and Identity
COM 301 - Globalization and Media
COM 310 - Issues in Journalism
COM 330 - The Digital Innovation and Media Strategies for a New Consumer Culture
COM 350 - Mediated Relationships
COM 327 - Producing Digital Media: Communication and Media in Practice
STA 200 - Computer Graphics in Advertising
STA 211 - Intermediate Drawing
STA 220 - Heads and Bodies: the Human Head and Proportions in Art History, Theory and Practice
STA 300 - Computer Graphics in Advertising, Advanced
STA 311 - Advanced Drawing
VCA 120T - Documentary and Street Photography on Location: Munich
VCA 200 - The Arts of Independent Publication
Capstone (3 credits)
One of the following:
FAS 495 - Senior Project in Fashion Studies
FAS 497 - Fashion Studies Internship
English Language Requirements
¡Certifica tu dominio del inglés con el Duolingo English Test! El DET es un examen de inglés en línea conveniente, rápido y asequible aceptado por más de 4000 universidades (como esta) en todo el mundo.